Royal Leamington Spa, 27th August 2006
Geek in the Park is a day-long get together, picnic, and discussion for anyone to do with the Internet (developers, designers, programmers… whatever!). This is a very informal affair so family and friends are very much welcome to attend too.
The big day is taking place in Royal Leamington Spa, Warwickshire. Split in to two main events, Geek in the Park starts with The Picnic during the day, followed by The Discussion in the evening. The event starts on Sunday at noon and everything should wrap up by around 11pm.
Geek in the Park: The Picnic
The Geek in the Park picnic will begin around noon on Sunday 27th August 2006 in the beautiful Jephson Gardens. The geeks, their families, and their friends will enjoy lunch, games, and indulge in general fun. The event is conveniently situated near plenty of cafés, restaurants, play areas, and toilets, so all you have to care about having fun in the sun.
The picnic will finish around 5.30pm allowing you time to grab some dinner before The Discussion starts at 7pm
Be sure to bring along food, drinks, footballs, frisbees™, cricket sets, blankets, sun cream, your kids and a willingness to have a good time! (These are just guidelines – if you think you can introduce something that would make great group entertainment, feel free to bring it along!)
We all know how unpredictable the English weather can be, so we've put some contingencies in place. If we do get rain (boo), The Picnic will be called off and we'll move inside until The Discussion, which will go ahead whatever happens. Everyone wish for sun!
Geek in the Park: The Discussion
At 7pm, Geek in the Park moves to the nearby pub called the Jug and Jester, for some informative and entertaining speakers. We will also be hosting some off-the-wall competitions, with a chance to win prizes generously donated by the kind people at friends of ED.
We have the pleasure of playing host to some special guests at The Discussion:

Patrick H. Lauke is the web editor for the University of Salford and a member of the Web Standards Project Accessibility Task Force. Patrick also writes on splintered, his freelance creativity and design site.

Bruce Lawson is also a member of the Web Standards Project Accessibility Task Force, and he is co-author and technical reviewer of Web Accessibility: Web Standards and Regulatory Compliance. Bruce writes on a personal site.
Patrick and Bruce will both be discussing 'Where the rubber meets the road: Web Accessibility and Pragmatism'.
Never fear if you cannot attend the discussions. We will be recording the speeches and Q&A session which will be made available here on the website after the event.
How to get there
Train
Jephson Gardens is only a 10-minute walk from the Leamington Spa train station. You should head left out of the station entrance and walk to the railway bridge where you then take another left. You should now be approaching the Royal Pump Rooms on your left; Jephson Gardens entrance is immediately on your right.
Royal Leamington Spa station has excellent connections from Birmingham New Street station as well as a frequent direct service from London.
Road
Royal Leamington Spa is close to the M40 motorway, linking it to Birmingham and London. The A46 also links it to Coventry. There is parking (with disabled spaces) in Newbold Terrace, with the nearest Pay and Display at St Peter's multi-storey car park. On-street parking is also available in Dormer Place. Newbold Comyn Park has a large car park and is a just 10 minutes away from the event.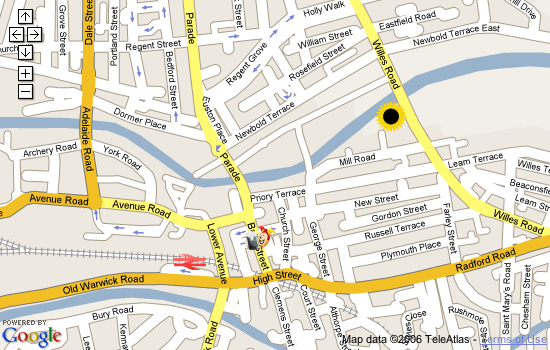 How much & where can I sign up?
You don't need to start emptying your pockets or signing on any dotted lines to join in with the fun - just turn up on the day and enjoy the company. That said, if you could leave a comment we would very much appreciate it as it will allow us to do some guesstimating and get an idea of whose likely to be there.
And if you think you'll forget? Anyone who comments will automatically get a reminder email with some final information just before the event. You could always download a vCard of the event for your personal organiser to remind you too.
What about...?
If that hasn't quenched your thirst for knowledge about this year's Geek In The Park, feel free to drop us a line or leave a comment below and we'll try and fill in the blanks.
See you there!
Supplementary
Thanks to
This event was brought to you by a few good friends, so go check out their stuff...